Richmond Youth Football League registration is open. Registration closes on July 9th. Register at the link provided:
https://forms.gle/rCg1qgfz9gSosYm96
Uniform measurements, equipment checkout and fundraiser form/money is due by July 9th Location: Behind Dear Elementary Time: 8am-1pm
Sign ups for Richmond Youth Football Cheerleading are this Thursday July 8th 4-6:00 pm, Saturday July 9th 9-11 am, Sunday July 10 5-7:00 pm.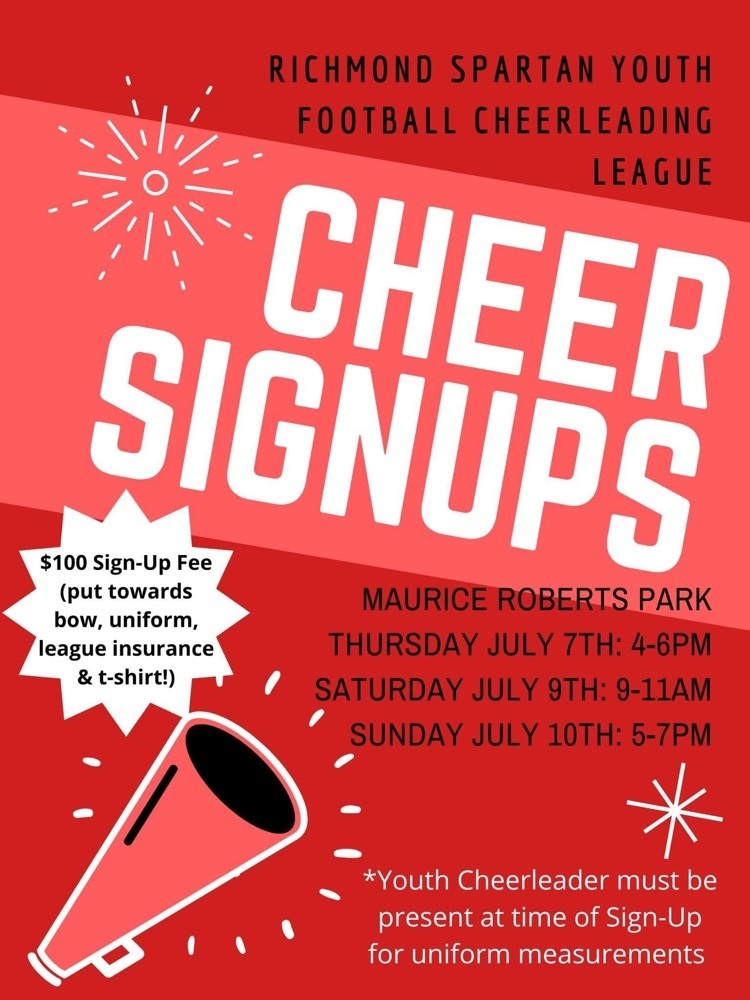 Sports & Marching Band Update: We are excited to announce that we are moving to an all digital sports physical and information packet platform. No more practice cards! Please view the following tutorial for getting your middle school (7th & 8th grades) or high school student cleared for participation in sports or marching band:
https://www.loom.com/share/d83ef7d397dc4e178147cde1cd7bf385
Go Spartans!

Summer school will be held June 6-24 from 8:00-2:00. Breakfast and lunch will be provided at a cost. Free and reduced lunch forms are available in each building office. Information has been sent out regarding summer school. If you have not received the information, please contact the school building your child will attend. June office hours for each of the schools are 7:30-2:30.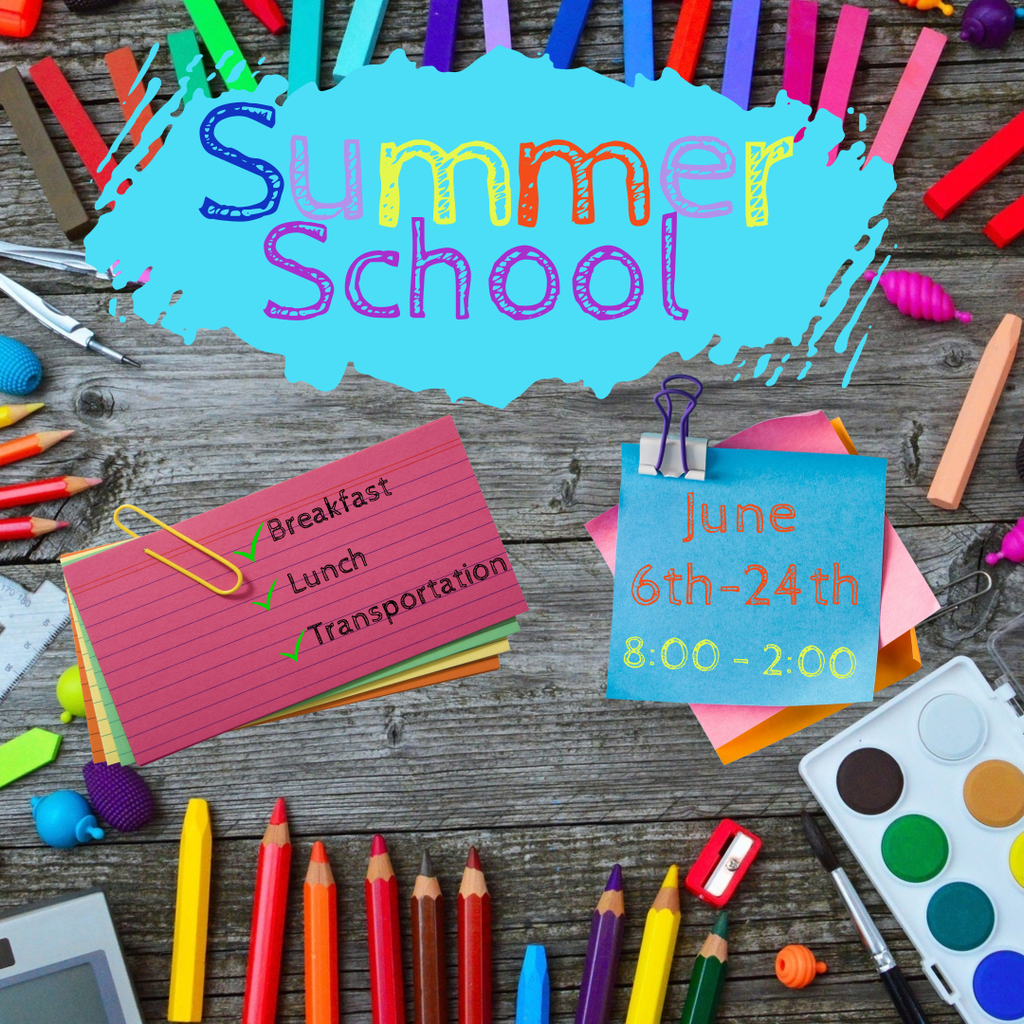 Spartan Families: We are writing for the purpose of dispelling a rumor that has been circulating within our district. This rumor is that our schools will be installing litter boxes in the restrooms to accommodate individuals who are self- identifying as animals. This is not true. There are no litter boxes in any restroom within our school district. Positive communication is the best way to help our students and our district when rumors such as this arise. Please contact your building principal if you have any questions or concerns regarding the welfare of your child or the environment in which they attend.
Graduation will be held outside! Students please arrive at 1:00pm and teachers at 2:00pm. Families: Seating is first come first serve. Congratulations Class of 2022! Today is your day!
Parents: Graduation is set to take place outside as of right now. We will make a final decision at 12pm on Sunday pending weather. Seating is first come first serve.
Parents: Reminder summer school bus forms are due this Friday 3/13.
In this week's Community Spartan Update
https://5il.co/1a1xl
*Upcoming activities*Sports *Retirees *Nurses Week *RMS Dance *8th Grade Celebration *Summer School * Graduation *Wax Museum
In this week's Community Spartan Update
https://5il.co/19oxq
*Upcoming activities* Farm Day *Earth Day *Administrative Professionals' Day *RMS Dance *8th Grade Celebration *Summer School

There will be an elementary PTO meeting at 6:30 p.m. at Dear Elementary library. We would like as many parents as possible to attend.

Checkout the updated Community Spartan Update
https://5il.co/18wcl
*FFA Awards & Greenhouse Sale *MS Science Olympiad *McTeacher Night *Pictures from every building *Upcoming Events


In this week's Community Spartan Update
https://5il.co/18ljw
*Dear D.A.R.E. graduation pictures *8th grade graduation *Kindergarten & Early Childhood Screening * Paraprofessional Appreciation Day *Librarian Appreciation *Upcoming activities

Important: School will dismiss at 1:00 p.m. today due to a major water main break in the City of Richmond. Lunch will be served to all students before dismissal. Buses will run normal routes. Vo-tech and Adventure Club will not be in session today. If you have questions, please contact your child's school office.

Reminder: There will be no school Monday, April 4 for teacher professional development. Classes resume Tuesday, April 5, 2022.

Check out this week's Community Spartan Update by clicking on the link.
https://5il.co/183a4
* FFA Awards, Pictures, & Donkey Basketball * No School Monday, April 4 * Dear Spring Fling & Art Display Pictures * RMS Positive Student Referrals & School of Economics * Upcoming events

The Community Spartan Update this week
https://5il.co/17bq0
*Summer School Information *Kindergarten & Early Childhood Screening *Picture Day *Student Photos from all buildings * Upcoming Events

Richmond R-XVI Reminder: There will be no school Thursday, March 17 for teacher professional development and parent teacher conferences from 1:00-6:00 p.m. No School Friday, March 18. Classes resume Monday, March 21.
Dear Elementary - Last day to order yearbooks is Thursday, March 17th. Yearbooks are $12. You can order online at: inter-state.com/order and use code 63452K. You can also send a check made out to Richmond R-XVI or cash (exact change). Please make sure if you send in money, your child's name and teacher are on the envelope.
No school Friday 3/11, due to inclement weather. Stay warm and safe!